So if you guys are ever in a rush in the morning and you want a bagel and a cup of coffee to start the day, then Einstein Bros Bagel is the place to go. They make amazing bagels and there are so many different kinds of bagels. You can get a plain bagel with a cream cheese of your choice or a bagel sandwich. Along with a variety of different bagel combinations, you can get a cup of "darn good coffee." Recently, I went to get some breakfast at the Einstein Bros Bagel in Long Beach after getting a blood draw, and I got the Nova Lox on a toasted garlic bagel. My sister got The Herbivore on a plain bagel, and my dad got the Santa Fe with one egg. In the Nova Lox, I thought it was salty but it is really good. It has smoked salmon, raw red onions, a slice of tomato, and capers on a bagel with plain cream cheese. Since I got it on a garlic bagel, it was just a bit more salty but if you order it, make sure you have some gum after you eat. You will definitely have to freshen up after all the garlic and onions. If you want a bagel that's a bit cleaner, The Herbivore is perfect. It has cucumbers, tomatoes, and arugula on a bagel with garden vegetable cream cheese. When I ate it, it just felt so refreshing because it wasn't heavy and it had only vegetables hence the name. But if you want the classic McDonald McMuffin with a hint of spice, you should get the Santa Fe bagel sandwich. It has a sausage patty with cheese and a over-easy egg on a bagel with the jalapeño salsa cream cheese.

Well I hope that gave you a little more of an option for when you are going out for a breakfast run. If you guys have any suggestions for where I should eat next, just leave it in the comments. Thanks mucho.
Powered by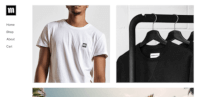 Create your own unique website with customizable templates.